Winner of the 2008
National Best Book Award
in Short Fiction!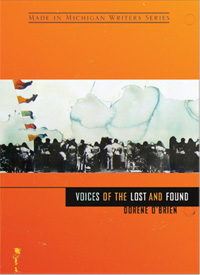 Dorene O'Brien's short story collection, Voices of the Lost and Found, from Wayne State University Press, is peopled with characters whose voices are uniquely theirs, such as the urban graffiti artist who plots the downfall of a rival gang, the middle aged woman reliving a harrowing childhood abduction, or the crisis line operator whose advice is colored by his own battle with depression. The collection traverses a cross section of lives in urban America, offering insights into the workings of various minds under the pressure of loss and alienation in settings as varied as the characters in the book. The stories occur in abandoned buildings, convenience stores, crisis intervention centers, university dorms, Buddhist retreats, psychiatrists' offices and remote cabins, but they are united by their vivid evocation and authenticity, and they provide a telling backdrop for the narrators' lives and struggles. These voices provide fresh perspective on both contemporary social issues and on contemporary angst, and the stories as a whole mirror the complexity and diversity of these modern times.
Receive information about the book.
Order this book.
Feature article
in the West Bloomfield and the Birmingham Eccentric papers.

Listen to WDET interview with Dorene O'Brien.